The story:
One day I was asking in the guildchat if anyone would help me out with a quest and only Tristran replied. I asked again and some replied that they cba because they didn't gain anything from it. Tristran's reply to them was of the sort that it doesn't matter as long as you help out guildies. Eventually the others joined because they felt bad and we got the quest done. Tristran's behaviour inspired me to give those that give a little effort, an award.
A member of the month award.
How to do it :
Anyone can nominate anyone in the guild up to the rank of advisor ( Not officers /council)
One would nominate a guildie for the member of the month award by sending it by mail in-game, with a reason why they are nominating this person.
Someone who helps donate resources to the guild
Someone who promotes a good atmosphere within the guild
Someone who has done a good deed/selfless act
Or just for being that someone who is just special
:)

The reward :
Fame and glory and praise. Hopefully people would want to help out more or do a good deed of the day/week/month.
3 choices of reward :
A care package : Flasks, food, 1 enchant.
Gold.
Random wish within reason of what we can accomplish.
And :
A diploma on face/forum for their good work.
A own guildrank for the month. With higher guildrepair then Crusaders.
Election day would be 30th-1. of each month.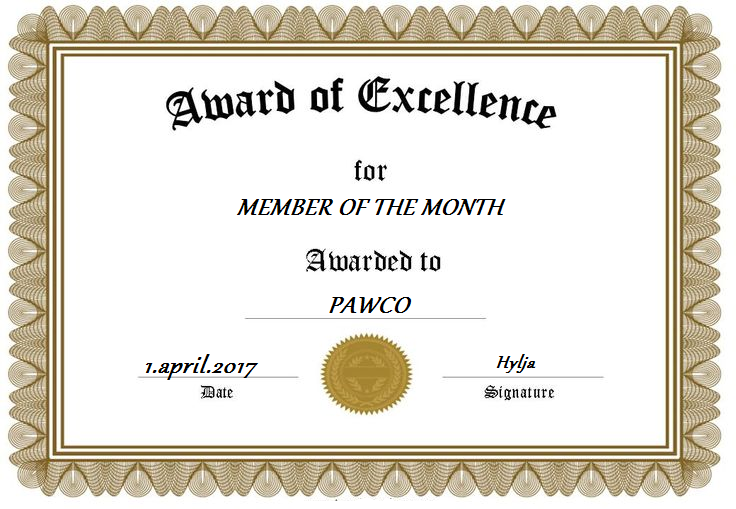 For years of loyalty and a kind heart.
The First Guild member of the month award goes to:

PAWCO!!
You are allways here for Crusade.
You give your full 100 % and more.
Sincerely from all Counsil and the Officers of Crusade.